Warning: SPOILERS from Episode 1 – 4
Can be viewed in Dark or Light Mode
"Is it me? The one who lives in your heart, the one who misses you endlessly."
---

홍천기 (Hong Chun Gi or Red Sky)
 
Airing dates: Aug 30, 2021 – Oct 19, 2021
Airs On: Monday, Tuesday
Episodes: 16
Duration: 60 min.
Genres: Historical,  Romance,  Drama,  Fantasy
Where to watch:
Trailer:  Viki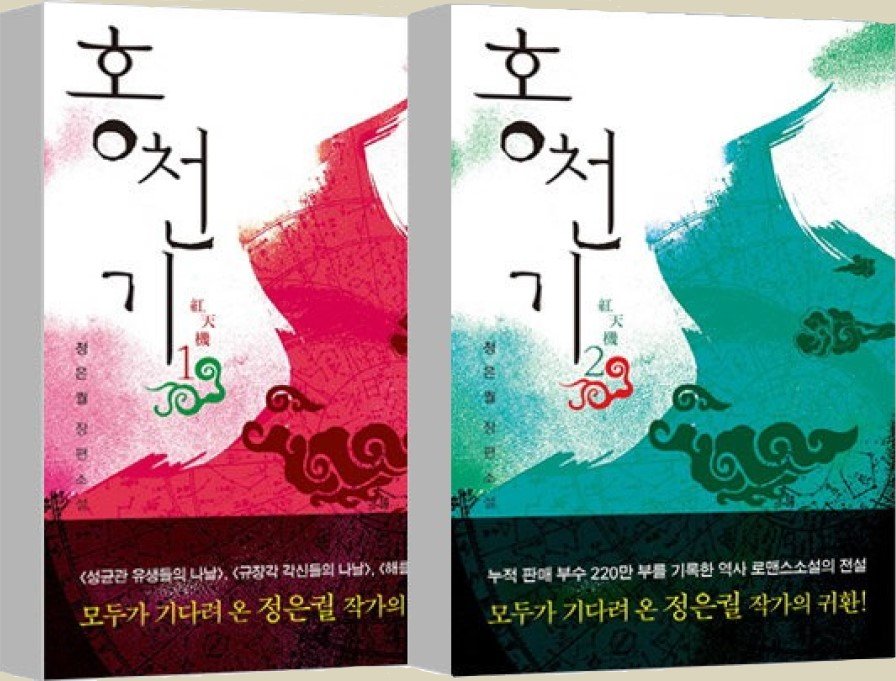 The drama is adapted from a 2016 2-volume novel of the same native name written by Jung Eun Gwol. The author also wrote two other best selling novels that are adapted to popular sageuk Moon Embracing the Sun (2012) and Sungkyunkwan Scandal (2010).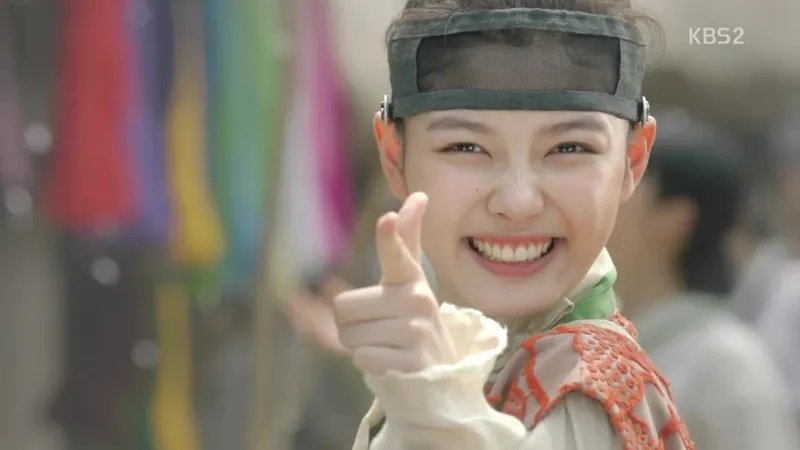 Lovers of the Red Sky (LOTRS) is a long-awaited sageuk (historical Kdrama) by many fans for a variety of reasons. For me, it has been a while since I saw Kim Yoo Jung donning hanbok (traditional Korean clothes) the last time as eunuch Hong Ra On in Love in the Moonlight (2016). If you have watched that drama, you remember her character's full of confidence gesture as depicted in the right image. My other reason: the author's adapted novel Moon Embracing the Sun is the first-ever Asian drama I watched. You may agree with me that your first drama is like your first love: it is special and memorable. As I love the two dramas from where her novels are adapted, I would want to love this drama, too.
Therefore, anticipation runs high for LOTRS to be a good classic romance sageuk. Hereby I will try to present you a glimpse of this drama with a limited observation from Episode 1 to 4 only. Moreover, as suggested above, this article may be biased with personal opinion, preference, and past experiences. 
The synopsis below is different than the one provided on the drama page/Viki and based on my take from Episode 1. The need to tell readers a different plot is not only that there is misinformation in the drama page/Viki, but also the exclusion of fantasy elements in the synopsis surprised some viewers upon finding out the drama is heavy on visual effects/CGI. 
---
The story is set during the fictional Dan dynasty of ancient Korea when ghosts, demons, and gods are involved in human life. On one of the darkest nights of the era, two babies were born during a royal deliverance ceremony. One is Hong Chun Gi, the daughter of an imperial painter, and the other one is Ha Ram, the son of a palace chief priest. Samshin, the goddess of life, intertwined the destinies of the babies. Chun Gi, who was blind, was granted by Samshin, a future partner who can help overcome her misfortune: Ha Ram. He is also destined to do great things. 
Nine years later, through their fathers' reunion, Chun Gi and Ha Ram met for the first time. Ha Ram and his father were on their way to the capital, and the boy would become the royal envoy of the rain harvesting ritual. The country has suffered a long drought, and Ha Ram is blessed with the supernatural gift of finding a water source. As their fathers were catching up with the past, the kids spent the day together, sharing each other's passion for painting and astronomy. After a meaningful, all-day outing, they promised to meet again after the rain ritual was over. Unfortunately, the meeting never happened.
The rest of the story follows the adult Chun Gi and Ha Ram after their reunion nineteen years later. Although not knowing each other's whereabouts or what their present looks like, they still remember the day they met and the words they shared, and a longing to see each other again.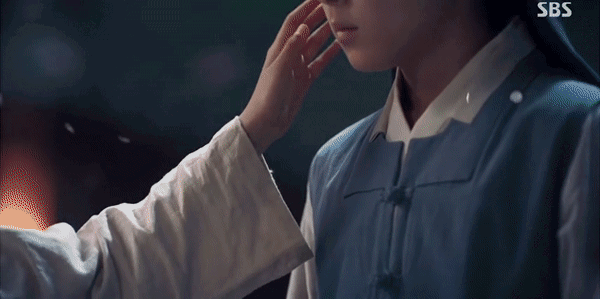 Special applause to child actress
Lee Nam Gyeong
 and veteran child actor
Choi Seung Hoon
 who played as young Chun Gi and young Ha Ram, respectively.
---
Kim Yoo Jung
as Hong Chun Gi 
Chun Gi is a genius female painter who is a rare gem in the country. She inherits the gift of creating a lively painting from her father, Hong Eun Ho, a royal painter. Not long after she was born, she became blind. Her disability did not stop her desire to learn how to paint. At age 9, she met Ha Ram. She shared her misery of being blind, assuming that he was like other kids who bullied her because of her disability. But Ha Ram was not like other kids. He gently reassured her that everything happened for a reason. They promised each other to meet again, but he never showed up. Miraculously Chu Gi got her eyesight back. At age 28, Chun Gi is an aspiring painter. But her father is sick, and to get money for his medication, she forges authentic paintings. At nights, when she feels the despair of her father well-being, she gazes at stars in the sky and remembers Ha Ram and his words of encouragement.


Ahn Hyo Seop
as Ha Ram
Ha Ram is the son of former palace Taoist head chief Ha Seong Jin. He was born a few hours after Chun Gi, and Goddess Samshin destined him to be Chun Gi's partner. He developed a love of astronomy since he was a child and was gifted with the supernatural ability to read nature. At age 9, he was taken to the palace to be the royal envoy for the water harvesting ceremony. That's when he met Chun Gi. She taught him about developing his senses other than vision. It turned out to be very beneficial for him, as later he got into an accident resulting in blindness. At age 28, he became the royal astrologist, and the emperor sought his wise advice. Ha Ram can read the future by tracing the movement of the sky at night. Ha Ram also keeps a double identity. He is also Il Wol Sung, the head of the secret organization Wolseongdang who no one ever saw. Moreover, he carries secrets that nobody knows. People fear him because of his red eyes; they call him a water demon. But when he meets Chun Gi again, she thinks his red eyes are beautiful.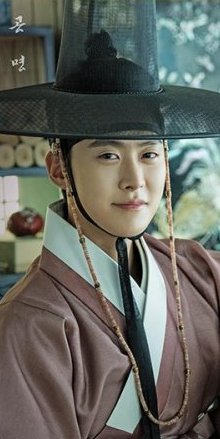 Gong Myung 
as Grand Prince Yang Myung/Lee Yool
The free-spirited Prince Yang Myung is the third son of King Seong Jo, the reigning Emperor. He is romantic and loves everything beautiful, even cherished wildflowers by the roadside. However, when he was young, his curiosity of looking at old royal paintings has caused a big chaos for the future of the country. Prince Yang Myung has a fluent speech and a lively personality. He is a sensitive person with remarkable artistic abilities and no interest in politics. He is known as the "master of three perfections" for his outstanding skills in poetry, calligraphy, and painting. However, although he appears to have everything anyone could have, there is a certain loneliness in his heart that is filled when he meets Hong Chun.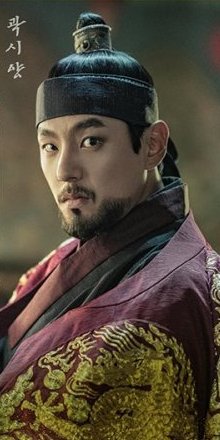 Kwak Shi Yang
as Grand Prince Joo Hyang/Lee Hoo
Prince Joo Hyang has never been happy being the second son of King Seong Jo. He regarded himself as nobody since his older brother Lee Kang was appointed to be the Crown Prince. When he was a teenager, this displeasure was replaced by an ambition to be on the throne, having been incited by a demonic power. Prince Joo Hyang is confident that he is the rightful owner of the throne. As he believes that he will become the next king of the Dan dynasty, he will embroider the path of becoming one in the future with cruelty. Prince Joo Hyang secretly formed his own army and made an elaborate plan to replace the leadership position from his elder brother, the Crown Prince, if needed, even from the king himself!
---

Kim Yoo Jung's charm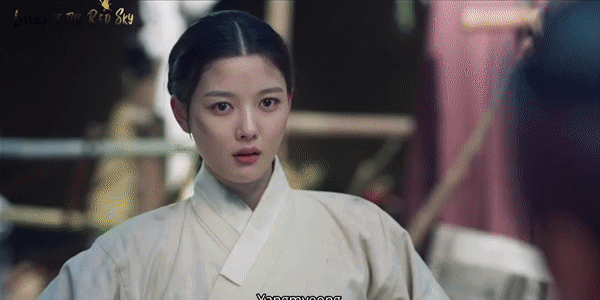 A lot of people has waited to watch this drama for Kim Yoo Jung, the Korean "Nation's Little Sister" and "Sageuk Fairy". Indeed she has acted in about 10 sageuk since she was little. Although her roles in the past were as support or guest roles, they mostly are memorable since she was the younger version of the female leads. The last sageuk she acted as the main lead is
Love in the Moonlight
. She was only 16 at that time, but nonetheless, she acted brilliantly as a disguised eunuch and had great chemistry with her co-star 
Park Bo Gum
. Though it has been five years, I see her reprising the similar spunky, independent, and easy-going personality role in Hong Chun Gi from the previous Hong Ra On in Love in the Moonlight. In LOTRS, so far, 

Kim Yoo Jung

has acted very well as a concerned daughter to a mentally challenged father. Chun Gi falls in love at first sight with Ha Ram and acts adorably as a love-sick young woman. She also met Prince Yang Myung in Episode 4, but she still fears him being a royal prince. So far, I have not seen a lot of romantic scenes with Ha Ram neither closeness with Prince Yang Myung yet. However, I'm confident in future episodes, 

Kim Yoo Jung

will show good chemistry with both male leads, as she did in the past with her male co-stars.
---
Mysterious Ha Ram

Although the native drama title is Hong Chun Gi, and the story is supposedly about the female painter, but I have a hunch the viewer's attention may be actually shifted to Ha Ram as the subject of interest. If Chung Gi is a straightforward character whose action and intention are clear, Ha Ram is the opposite. The drama may tell us about who he is and his background, but for the rest of the characters, he is a mystery. He appears weak and needs physical guidance, but he is agile and skilled in martial arts. He appears to only give attention to astrology and movements of nature, but he diligently observes the political climate of the country. Audiences know that he has a secret agenda, but how he would execute his mission is still unclear. And now that the woman he missed for so long has shown up, how will he include her in his grand plan? 
Please, readers who have seen Ahn Hyo Seop in many Kdramas, tell us if this is his best role so far. I have seen him only in Dr. Romantic 2 (2020), Queen of the Ring (2017), and Splash Splash LOVE (2015). In my opinion, acting as a blind guy with rich micro-expressions and micro-movements are not easy, and Ahn Hyo Seop did it gracefully.

---
Production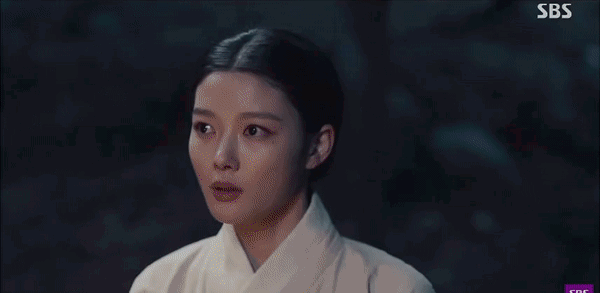 Besides great acting performances from Kim Yoo Jung,

Ahn Hyo Seop

, and the rest of the cast, in my opinion, this drama also has good directing and editing with high production values. The GIF above is just a tiny fraction capture of my favorite scene in this drama so far: the spiritual battle in the forest. Although we can see that the setting is not a real forest, from nicely spaced trees and background lighting, the audiences are captivated by the shots from different angles, lighting, editing, and props. There are some comments about the excessive usage of CGI in this drama. Well, it is a fantasy historical with fictional monsters and mythical spirits. Others commented about bad CGI. It's not perfect, and it's not A-movie level, but I have seen worse or better. If you watch a lot of Chinese historical dramas from xianxia and xuanhuan subgenres, you will agree the Korean LOTRS has great visual effects.

My favorite production elements (Ep 1 to 4)
Favorite costume: Chun Gi's red jang-ot (a traditional female outer robe that also functions as head cover). I also love her purple hanbok, as seen in the first GIF.

Favorite makeup: Ha Ram's red eyes

Favorite CGI: blue-eyed silver tiger

Favorite cinematography: riverside setting by Chun Gi's home
---

Story pace
From Episode 1 to 4, there is so much information told about the background of the plot in general, Chun Gi and Ha Ram personally, supernatural beings, and the current set-up to the plot progress. Some complained about a slower pace in Episode 3 in contrast to the two previous paces, especially the fast pace in Episode 1. I am more concerned about the upcoming pace of the story due to two reasons. One, the original story is told in two-volume novels. Second, according to actor Kwak Shi Yang who played Grand Prince Joo Hyang, his character originally is not in the novel. It seems the production team added a villain character to spice up the political struggle in the story. The need to 'cram' the original long story plus an additional with his own story into 16 episode format may leave some plot holes and rushed ending. Let's hope the screenwriter did a good job in writing a good paced script throughout the drama. Readers who have watched Be Melodramatic (the screenwriter's previous work), please do tell us if its story is paced well.
---
Love triangle
Bleh, nobody likes love triangle stories in romantic dramas, yet it seems like we cannot avoid it most of the time. In LOTRS, the love triangle is one main element of the novel's plot. If you have watched Moon Embracing the Sun and Sungkyunkwan Scandal, you know how author Jung Eun Gwol treated the two second male leads and their love for the female leads differently. I will not spoil you what their outcomes are and cannot predict how Prince Yang Myung romantic interest in Chun Gi will become.
I only assume, sorry to inform the readers, that Prince Yang Myung can be a strong love rival to Ha Ram for two reasons. One, the prince's personality. In the first 3 episodes, we only see a glimpse of him here and there, but in Episode 4, we may fall for him. His introduction to Chun Gi is so damn hilarious as we saw her hearty laugh in the previous GIF. He seems an easy-going and open persona. Second, Prince Yang Myung and Chun Gi share the same passion: painting. I foresee scenes of them looking over and discussing about paintings together, stir up a murky love triangle. Ready to have an SLS (Second Lead Syndrome)?
---
Political struggle
I only put this as my concern for the upcoming palace power struggle because I don't like politics in dramas personally. However, if you like it, this won't be bothersome. Besides, as said in the 'Story pace' part above, it seems the political part is the second main plot after romance. Therefore, if you want to watch this drama, you should just bear the political scenes. Actor Kwak Shi Yang has done a great job so far acting as Grand Prince Joo Hyang with his ambition to take over the power. 
Since I haven't read neither heard about how the original story goes (the 2016 novel has not been translated into English yet), I cannot tell you how the political part in the novel is adapted.  All I can say from watching Episodes 1 to 4, the political scheme cooking by Prince Joo Hyang seems in harmony with Ha Ram's grand plan. Again, let's hope that screenwriter Kim Young Young did a great job interweaving the palace politics along with this beautiful, long-awaited love story!

Preliminary jealousy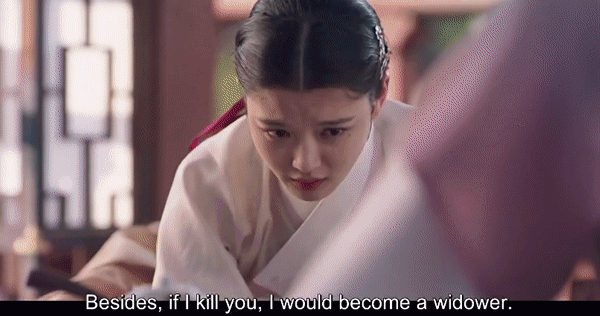 Prince

Yang Myung

threw a deadpan joke to Chun Gi resulted in Ha Ram spilling hot tea at him. At this time, Ha Ram has not even 100% assured that the present Chun Gi is the one he knew in the past. Nevertheless, he is jealous already?
---
So watch it or not? My suggestion is to go watch it, of course! As someone who stumbled upon a melodramatic sageuk as my first drama watched, I vouch that you can watch this even if you never watched a (Korean) historical drama before. However, if you don't like love triangles either palace politics, I suggest you to wait until LOTRS is completed so you can read the reviews first. Then decide if you can bear the love triangle or the political struggle presented in this drama. 
As for the ending, I understand a lot of people don't want to watch if there is no satisfactory ending they want. I am one of you guys, too! I pass every drama once I read the ending is not to my liking, no matter how masterpiece the drama is! For LOTRS, this is not a spoiler but only my guess: it will have a happy ending for Ha Ram and Chun Gi. There are two reasons for my prediction: Firstly, the novel author Jung Eun Gwol created happy endings for her two main couples in her previous novels. So can I assume LOTRS will end happily for these lovebirds, too? My second reason is based on the prophecy foretold by Goddess Samshin at the end of Episode 1: "Far in the future, when the two destinies intertwine, everything will find its rightful place."
Thanks for reading, and happy watching!
Hong Hong Hong
Chun Gi acts cutesy and shy in front of her crush.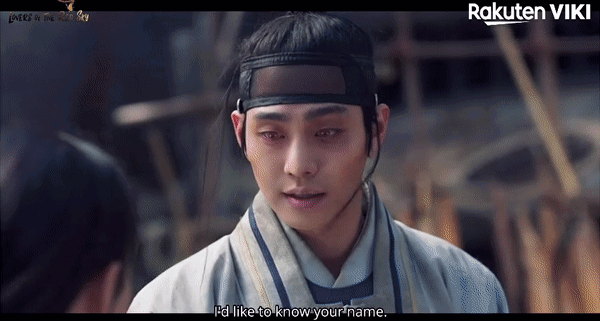 ---
Acknowledgement and credits: Thank you to the editors who edited this article. I do not own any of the images; credits go to their respective owners. The images are from drama poster, stills and screenshots. GIFs are self-made from official trailers, clips, and screenshots.
---
Edited by: YW (1st editor)
Please follow and like us: